The Green Deal is a finance scheme which makes money available to fund retrofit projects with no up front cost to reduce your energy cost and improve the energy efficiency for the property owner.
The cost for each project will be paid through your energy bills which will have reduced once the recommended measures have been installed The Green Deal is Government backed but its implementation is by private companies offering private finance. There are 45 measures included in the scheme, including boiler replacement solar panels and insulation.

The Green Deal Opportunity and why it has been created?
The Green Deal is a huge opportunity for the UK construction industry; this is a new private finance scheme enabling millions of new retrofit projects across the country.
The UK Government have set a target to reduce Carbon Emission by 80% by 2050; the country needs to retrofit every home in a city the size of Cambridge each and every month for the next 40 years. That's 5 to 6 homes every minute.
Almost 50% of the UK's Carbon Emissions come from the energy we use to heat our homes, businesses, industry and workplaces. Bence Eco by the George Bence Group have partnered up with Your Green Deal provider Ltd to offer the complete Green Deal Provider package for all our customers.
How does the Green Deal process work?
Get an assessment on your property by a Green Deal Assessor to see what improvements you can make and how much you could save on your energy bills.
Choose a Green Deal provider to carry out the work. You discuss with them what work you would like completed by using the report from the energy assessment and whether the Green Deal is right for you.
If you go ahead with the improvements you must sign your Green Deal Plan – this is a contract between you and the provider stating what work will be done and how much it will cost. The provider will then arrange for a Green Deal installer to do the work.
Once the work is done, you'll pay off the money in instalments through your electricity bill.
What Products are included in the Green Deal?
The following Measures can be installed as part of a Green Deal. The measures below are included in the installation standard PAS 2030 or affiliated certification scheme
Heating
Condensing Gas Boiler (Domestic and Non-Domestic)
Condensing LPG Boiler (Domestic and Non-Domestic)
Condensing Oil Boiler (Domestic and Non-Domestic
Gas Warm Air Units (Domestic and Non-Domestic)
Under Floor Heating
Heating Controls
Heating System Insulation
Flue Gas Recovery Devices
Insulation and Building fabric
External Wall Insulation
Internal Wall Insulation
Hybrid Wall Insulation
Cavity Wall Insulation
Pitched Roof Insulation
Flat Roof Insulation
Draught Proofing
Electrical
Storage Heaters (Domestic and Non-Domestic)
Energy Efficient Lighting Controls (Non-Domestic)
Energy Efficiency Light Fixings
Micro generation
Ground and Air Source Heat Pumps
Solar Thermal
Solar PV
Biomass Boilers
Micro CHP
Micro and small scale wind turbine systems
Get a free Green Deal survey
Interested in the Green Deal or Funding for your home or business?
Want to talk to us about the Green deal and funding?
Call us on 01242 285 154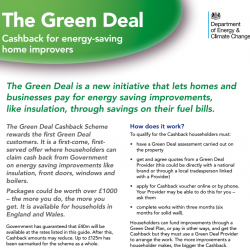 More info about the Green Deal from the Department of Energy & Climate Change
The Green Deal is a new initiative that lets homes and businesses pay for energy saving improvements, like insulation, through savings on their fuel bills.
Bence Eco have partnered with Green Deal providers to offer tailored packages to all customers.